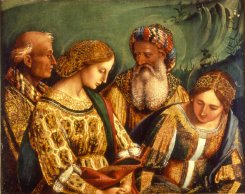 Luca Signorelli, Four standing figures (1504-5). Oil on wood. 71 x 88.4 cm. Private collection, England (copyright: the owner).
Document keywords
Although the database is fully searchable we have tagged some keywords in every document, and these are listed via this page.
This process of tagging will be expanded and refined in a subsequent phase. In particular, further work is required on a list of synonyms, and especially on a forward convention on naming protocols in the keyword lists. This will be developed with reference to the example of The Years of the Cupola and ongoing discussions with the Medici Archive Project.