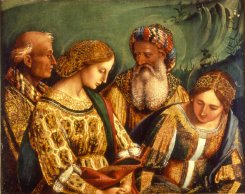 Luca Signorelli, Four standing figures (1504-5). Oil on wood. 71 x 88.4 cm. Private collection, England (copyright: the owner).
Welcome
This website is a fully searchable database of 353 published and unpublished documents relating to the Italian renaissance artist Luca Signorelli (c.1450-1523). It was developed to act as the documentary appendix for T. Henry, The Life and Art of Luca Signorelli, New Haven & London (Yale University Press), 2012. ISBN: 978-0-300-17926-2. At the date of the book's completion (last corrections in February 2012) the author believes that these 353 documents make up a complete corpus of documents and early sources relating to the artist. In a few cases these Latin and Italian documents are accompanied by a photograph of the original document, and very occasionally by a translation into English. The idea is to make as much source material as possible available to a wide audience, and to allow this material to be searched and (wherever possible) compared with an image of the original document which can be enlarged for ease of comparison. The intention is to add more images in the future.
In addition to acting as the documentary appendix for my Signorelli monograph, this website is a pilot for a proposed larger site for the publication of Italian renaissance documentation. If the full site is constructed it will include a facility for accredited scholars to add documents that they have transcribed. The majority of the documents included in this database have been transcribed by Tom Henry, and where previously published this has been noted in the bibliography for each document. Some transcriptions may need further work, and the image quality is limited in this pilot by the use of existing photographs. Feedback is invited to the Weblog or to Dr Tom Henry, Professor of History of Art at the University of Kent.